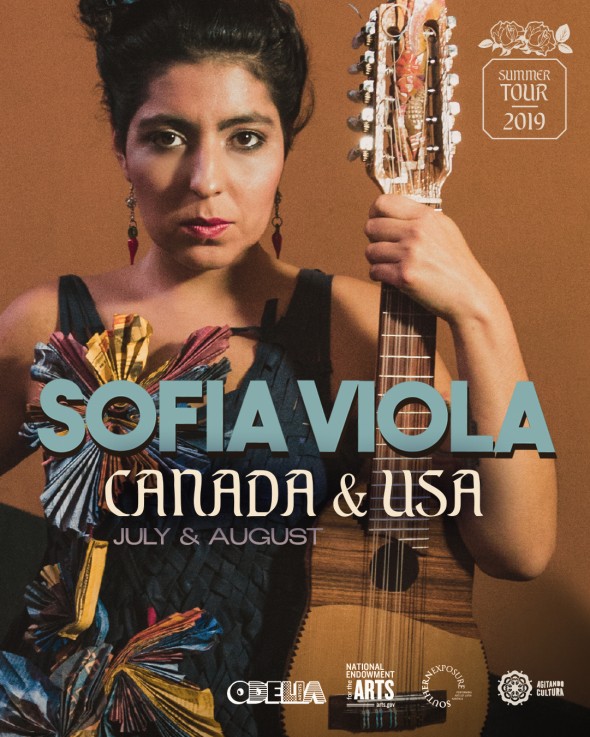 Sofia Viola is an Argentinian singer, composer, and actress with an overflowing talent. She composes songs in which she professes her unconditional love for Latin American folklore in all its dimensions and in which she tells micro stories that speak of love, ecology, junk food and universal themes from her particular vision and grace.
Her style was formed in the suburban tango, but she also draws from rock music and the Argentinian "Tropical Wave" style. Her talent on stage is at the service of the author's song, with an indiefolk touch in tangos, milongas, cumbias, vallenatos, boleros, blues, among many other rhythms she both absorbs and composes.


Sofia Viola, chanteuse-compositrice d'origine argentine, professe son amour inconditionnel pour le folklore latino-américain à travers ses chansons. Telles de micro-histoires, ses textes nous parle d'amour et de protestation, de la vie à la ville et des petites choses du quotidien, le tout à travers sa vision, son humour et sa grâce particulières. Inspirée du tango, des milongas, des boleros et des cumbias, auxquels elle y ajoute sa touche d'indiefolk, la prestation live de Sofia Viola est époustouflante.


7/25,26,27, 28 40th Annual Calgary Folk Music Festival #Calgary


7/30,31 @WideSkiesArts&MusicFestival. #Lethbridge. CA


8/01 254 Lansdowne. #Toronto. CA. con QuiQue Escamilla


8/02 @QuaisdesBrumes. #Montréal. CA con Ramon Chicharron


8/04 Ashkenaz. #Berkeley. US con Datalia Garcia


8/08 Beloved Festival. #TidewaterFalls. US


8/09 Regina Folk Festival. #Regina. CA


????Preventa Toronto: https://www.eventbrite.ca/e/sofia-viola-in-toronto-with-qui…
????Preventa Montreal: https://www.epasslive.com/…/sofa-viola-argentine-a-montreal…


Agitando cultura
#OdeliaArtists
#Southern Exposure: Performing Arts of Latin America
Mid Atlantic Arts Foundation
National endowment for the arts


#USA #Canada #argentina #argentinemusic #Music #happyness#dancing #singing #songwriter #cantora #cantoraerrante#canciondeautor #Musicalatinoamericana #latinmusic #musicaargentina#tango #bolero #vallenato #cumbia #blues #Rock